25 JANUARY 2023

"Rain passes in the pristine mountain, refreshing autumn evening. Moon shines among the pine, clear spring flows on stones". The architectural design by aoe is inspired by Wang Wei's verse in "Mountain Dwelling in Autumn".

Through a four "stones" arrangement, like a stream of clear spring water flowing from the cracks in the rocks. The main structure is assembled out of white perforated panels, glowing with pure and elegant cultural motifs. The northern boundary is designed like a mountain waterfall, combined with green microtopography, giving the whole building an air of refinement filled with cultural significance.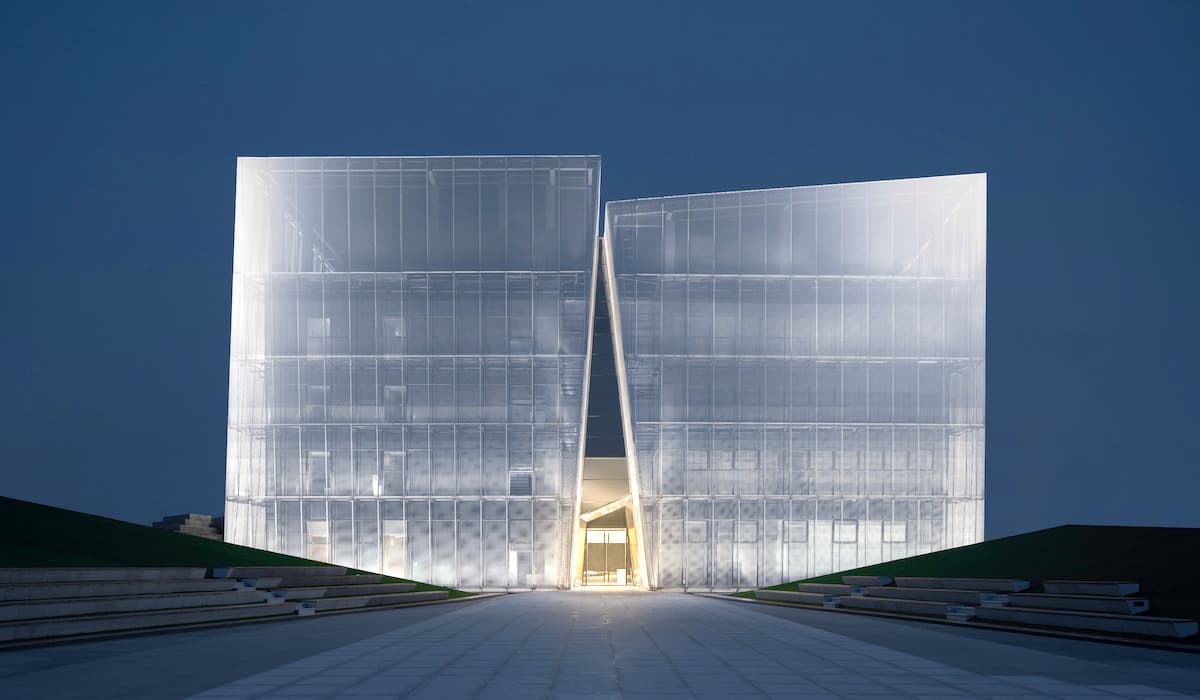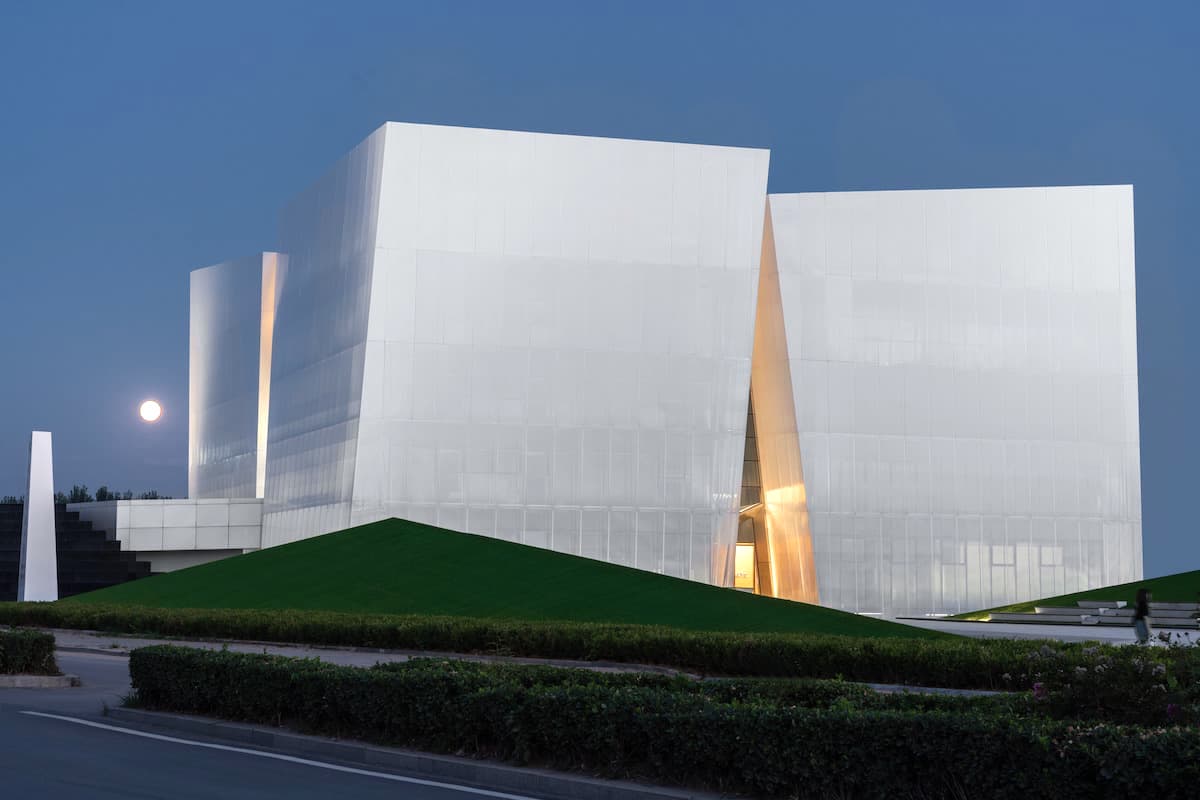 Located in the Changqing Economic Development Zone, 20 kilometers away from the city center of Jinan, the Shuifa Information Town Industrial Exhibition Center is designed to host residential sales expos, property expos, and offices. its main structure comprises the four, slightly tilted volumes, which, at night, glow with elegant cultural motifs.

The clean, pure, and stone-like building body appears to emerge from the water. To eliminate the visual impact of the messy surrounding environment, geometrical hills are designed to surround the square, which slowly rises as people enter the site, gradually blocking out the view. Mountains, water, and marble are fused together in this undeveloped wilderness.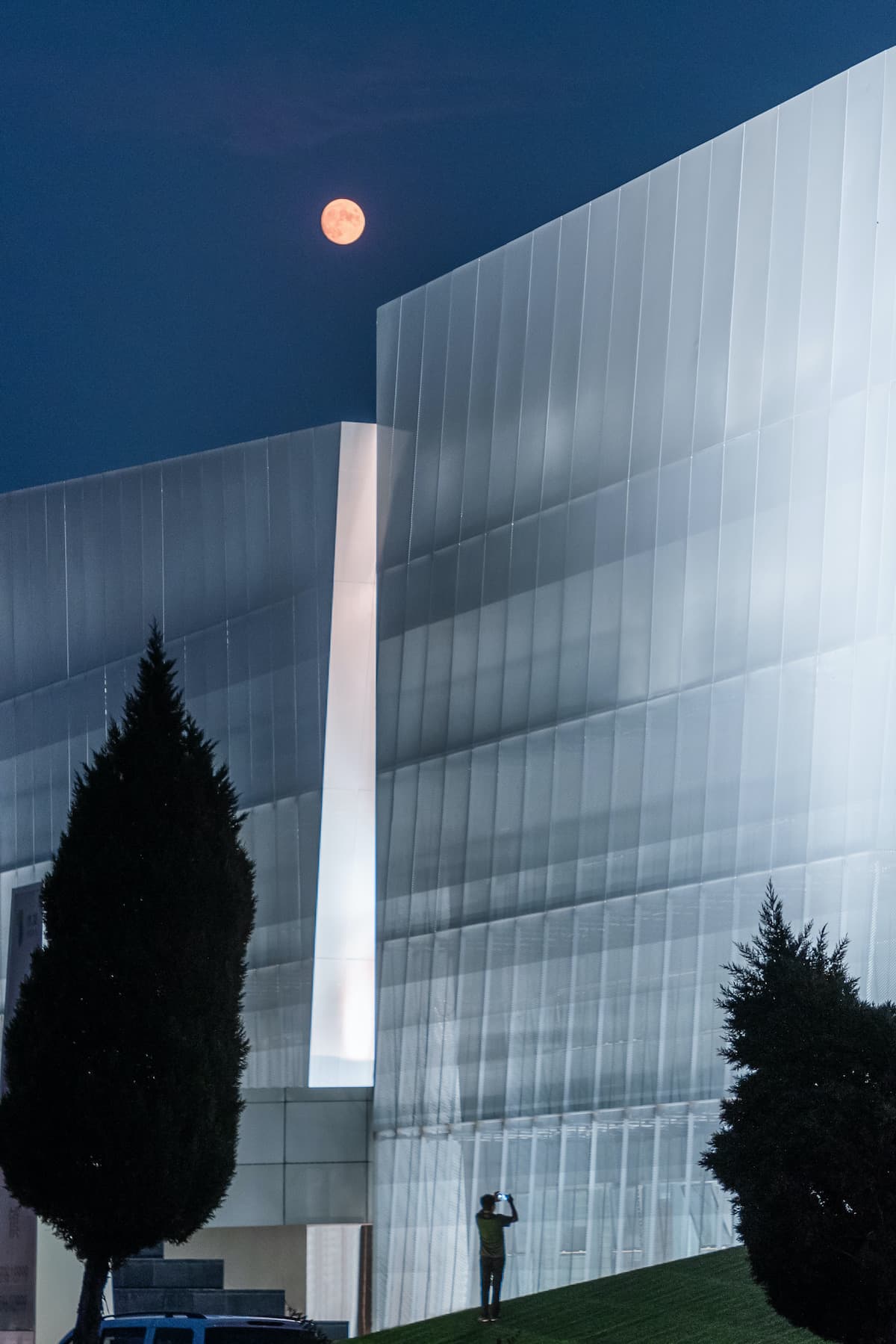 The interior of the building is a continuation of the exterior, with the perforated plating element of the entrance area extending directly from the exterior to the interior. A large, four-story atrium serves as a sandbox area and becomes the focal point of the entire space. Natural light comes in from the skylight and is surrounded by perforated plates, forming a space imbued with a sense of ritual. Viewing windows are set up on the enclosed perforated plates, allowing the people upstairs to look over the sandbox, while also setting up a contrast that makes the space livelier.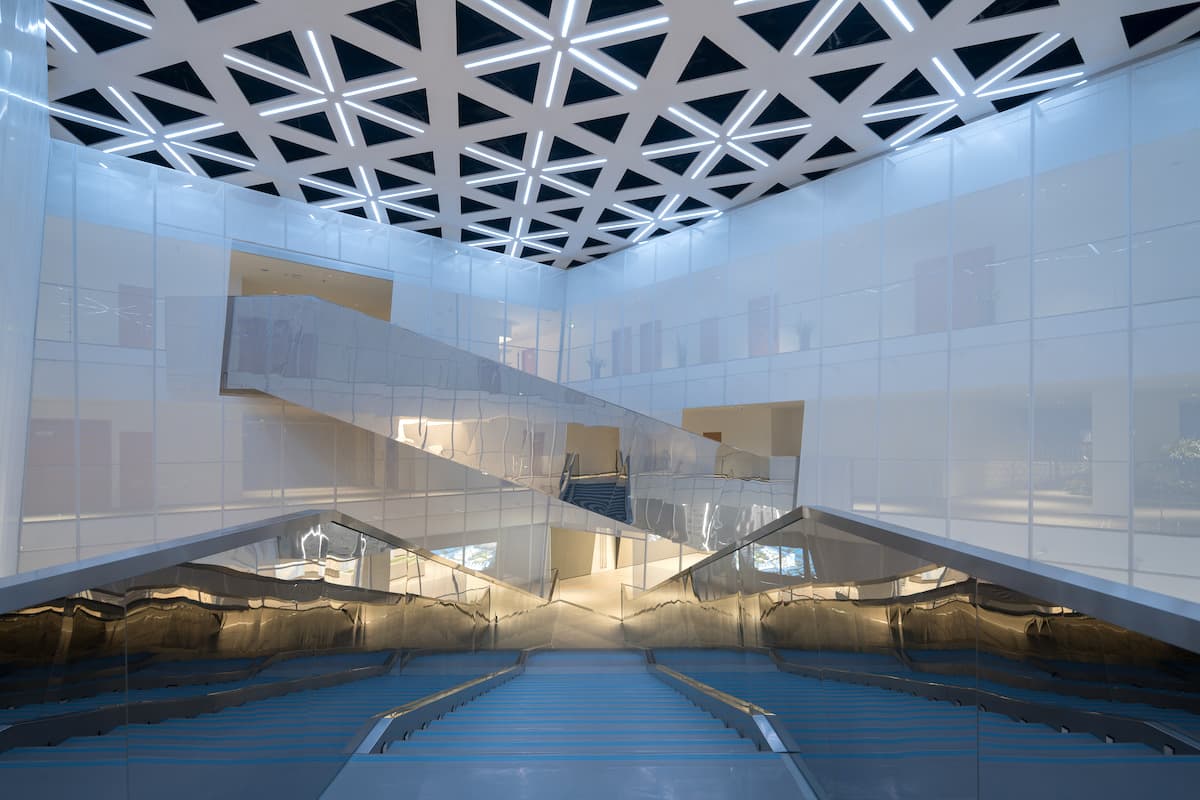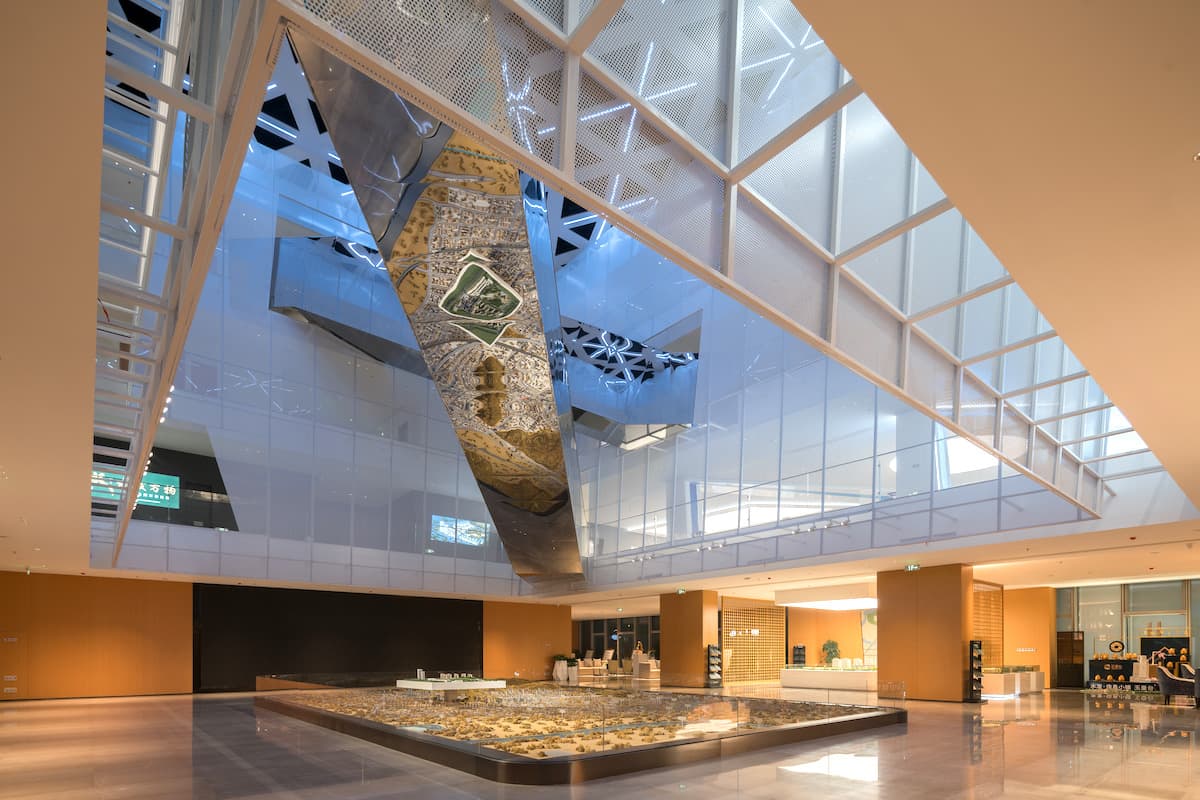 A combination of floodlight and internal light transmission on the two floors is applied to the facade. Floodlighting emphasizes the overall sense of the building, which is emphasized on the top to capture the block architectural style of the stone displayed in a more intense way. The lighting designer designer Beijing Puri Lighting Design set up 100W LED floodlights at the four corners of the building, and the color temperature is 4000K. The focal point of the floodlight is concentrated on the corner of the building, with the overall floodlighting on this floor providing the building with a strong sense of integrity.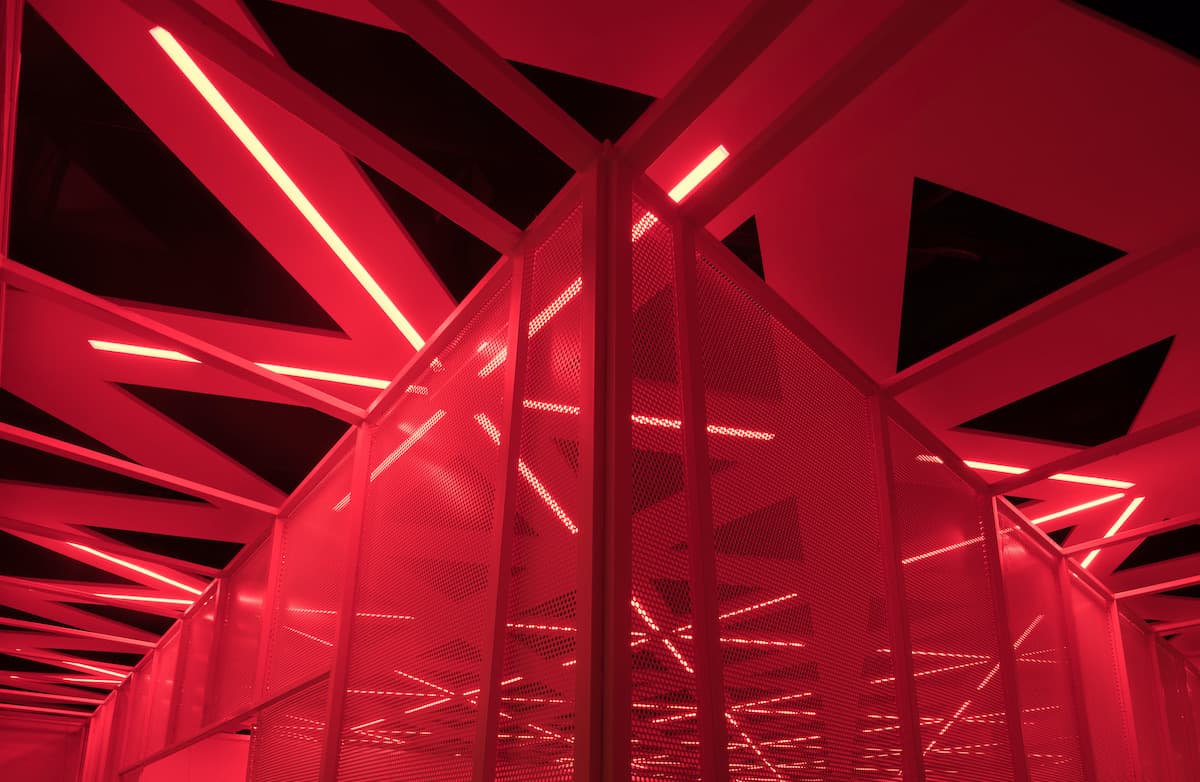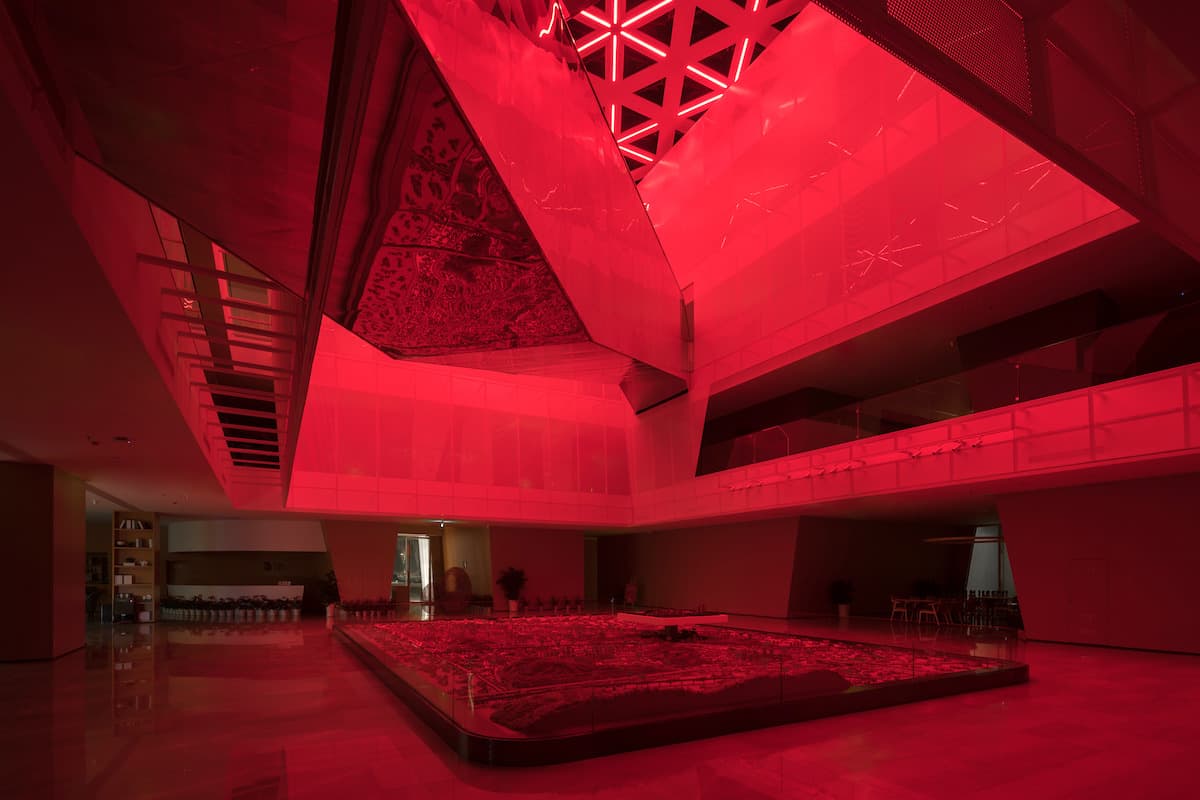 The internal light transmission of the two layers refers to the space between the punch plate of the building layer and the main building, as well as the interior lighting of the building. The internal light transmission between the punch plate of the building surface and the main body of the building is mysterious and hidden from the outside of the building and is realized by linear uplights projection lamps.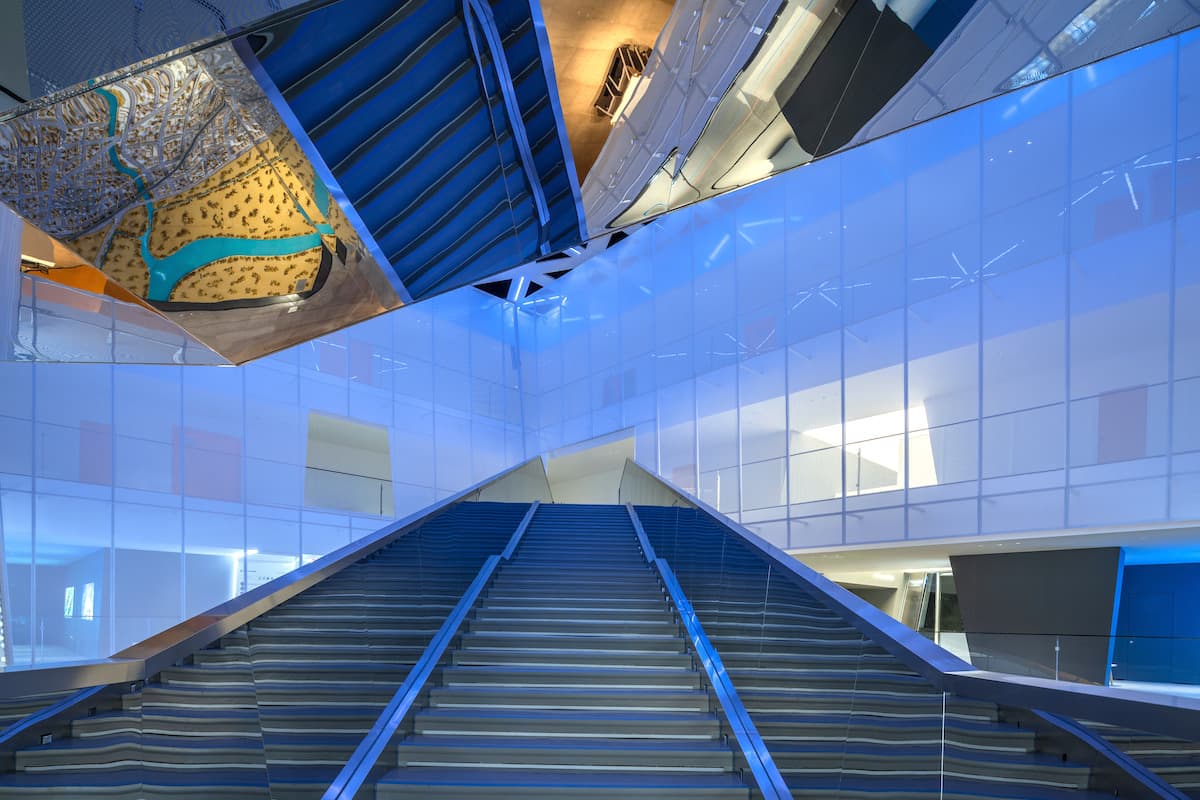 Photo: Jianquan Wu, Zhenjia Yao